Durable, attractive, and versatile, ceramic tiles are a classic choice for floors in the busiest rooms and spaces like kitchens, bathrooms, entryways, and other high-traffic areas in your office or commercial space.
If your business has ceramic floors, you know how great they look. that is until they get dirty or scratched. Like all floor materials, ceramic tiles take a beating in commercial spaces, and over time the wear and tear start to show.
That's why it's so important to invest in professional cleaning and maintenance of your ceramic tile floors. You need a tile floor cleaning company you can trust.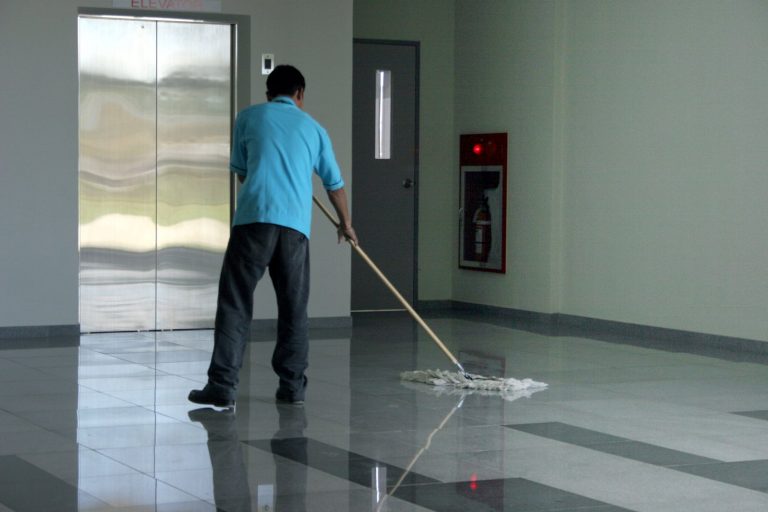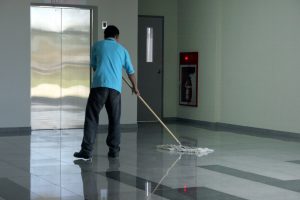 InterKleen knows your commercial floors need to always look their best for the customers, clients, and vendors who walk through the doors of your facility each day. They're a symbol of your organization's professionalism and attention to detail. This is why we offer extensive ceramic tile floor cleaning services to keep your floors in prime condition year after year.
No one does a more thorough job of cleaning your floors than our expertly trained crew. Our cleaning professionals have the right training, equipment, and processes to clean, disinfect and protect your ceramic tiles and grout properly to prevent damage and promote a beautiful, clean shine.
Trust InterKleen As Your Wellington Ceramic Tile Cleaning Company
Ceramic tile floors benefit from frequent cleaning to prevent scratching, build-up, staining, and general wear and tear. Small particles of dirt and dust can act as an abrasive, which grinds away at the finish of your tiles if not cleaned often they can damage your investment over time and leave your ceramic tile floor looking worn.
Having to replace damaged flooring can be extremely costly. InterKleen's expert ceramic tile floor cleaning services will prevent permanent damage to your floors. We take pride in expanding the lifespan of your ceramic tile floors.
Our cleaning technicians use only industry-approved cleaning equipment, solvents, and cleaning agents in our deep cleaning process.  We remove layers of dirt and grime that build up on your floor and grout, leaving your ceramic tiles looking as good as the day they were installed.
InterKleen Cleaning Services for All Your Wellington Ceramic Tile Floors
We use only proven techniques and processes for our tile floor cleaning services so you get a consistent cleaning every time. Here's a look at what we do when cleaning ceramic tile floors:
Vacuuming: Like most cleaning jobs, ceramic tile floor cleaning begins by vacuuming up dust, dirt, and debris. We remove the tiny bits that would otherwise become lodged in the grout and over time chip away at it and cause it to become discolored. We utilize a brush attachment that Is specially designed for ceramic and other tile surfaces.
Deep Cleaning Company Near Me in Wellington
Deep Cleaning: We provide maintenance of your ceramic tile to include mopping with a neutral pH cleaning solution diluted with water. Our solutions are approved for ceramic tiles and will not stain, damage, or leave a film on them. The shiny gloss finish on some ceramic tiles will be left intact.
Steam Cleaning Company Near Me in Wellington
Steam Cleaning: We utilize a microfiber brush and distilled water to steam clean your floor. The steam disinfects your floor and loosens any dirt that might be remaining after the initial cleaning then the while the microfiber cloth picks it all up. The steam evaporates without leaving any residue or stains.
Grout Cleaning Company Near Me in Wellington
Grout: Ceramic floors have grout between the tiles. These are generally white and over time can start to shot stains and wear.  cleaning grout. Grout is porous so over time stains can seep into the grout and become hard to remove. InterKleen's grout cleaning methods deep clean and disinfect every part of the grout to lift and remove any unsightly stains, leaving your grout looking clean and new.
Trust InterKleen As Your Wellington Ceramic Tile Cleaning Company Of Choice
No matter your business, we're here for all your ceramic tile floor care needs. We serve businesses across a wide array of industries including :
Churches
Retail Stores
Schools, Colleges, and Universities
Office Buildings
Hotels, Air BnBs, and Restaurants
Hospitals and Medical Facilities
Distribution Centers and Warehouses
Banks and other Financial Institutions
InterKleen provides the best ceramic tile cleaning services in Wellington
Cleaning Company Near Me in Wellington
You won't find any other company with as dedicated, reliable, and trustworthy team members as us! For all of your deep scrubbing, floor maintenance, and facility cleaning needs, you can trust the cleaning crew at InterKleen. InterKleen has a reputation for being the #1 preferred choice among all the ceramic tile cleaning and commercial janitorial companies in Wellington. Call InterKleen today at
561-732-1818
to schedule your commercial cleaning service.