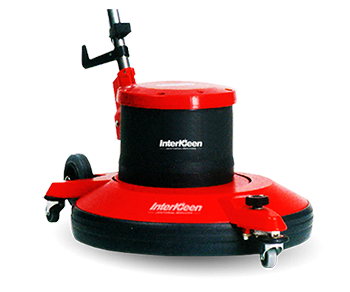 InterKleen is a family-owned and operated janitorial cleaning, business floor cleaning, and office building cleaning company that has been handling floor waxing services including commercial floor cleaning, floor stripping, floor polishing, and floor waxing across Palm Beach County since 1996. Our janitorial staff is not only highly experienced and well trained, but fully licensed, bonded, and insured for your protection. Our business has a strong reputation for providing world-class services wrapped around a foundation of excellent customer service.
Commercial Floor Cleaning
Over 20 Years of Experience

Detail Driven Results

Comprehensive Packages

Reliable Services

Dependable Technicians

Responsive Scheduling

Professional Discretion
Interkleen offers full floor care services from experienced professionals who understand the process of stripping, waxing, and polishing. Our team of commercial cleaning and janitorial specialists has over a decade of experience and covers Palm Beach County from top to bottom, handling churches, hospitals, laboratories, schools, industrial areas, and commercial zones with ease.
Floor Waxing Company
Our hard work, professional care, and commercial cleaning expertise have consistently earned Interkleen a reputation as a premier floor waxing company for our ability to care for and maintain professional floors regardless of the level of need or wear.
Whether you require commercial or residential services, we can provide the floor polishing, buffing, stripping, cleaning, and floor waxing services your business space needs to maintain a professional appearance.
Floor Polisher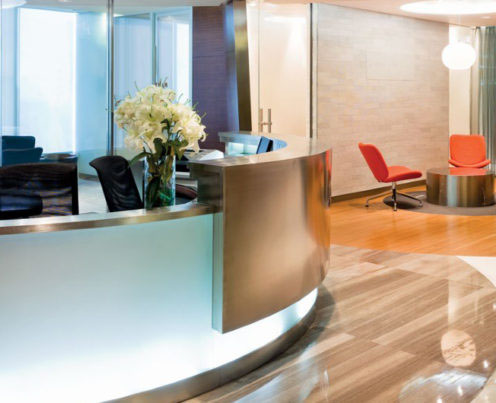 Without proper maintenance between floor stripping and floor waxing, hard surface floors will quickly lose their smooth grade and sheen. A floor polisher keeps your floors from being permanently damaged in the in-between stages of weekly or bi-weekly care and involves the use of high speed burnishing that enhances a strong floor and maintains consistency, as well as floor buffing which adds a beautiful level of polish and gives that glamorous feel of gloss and gleam.
Let us help preserve the beauty of your floors and ensure that they appear as good as new to improve aesthetics and extend the life of your flooring materials by protecting against wear and tear, reducing marks and scratches, and guarding against soil penetration and abrasion.
Floor Stripper
This is a critical part of the floor care system and the one that most other professional companies (and private janitorial professionals) mess up as it takes an experienced hand and well-practiced eye to do it quickly and efficiently without taking off too many layers, cutting corners, or damaging the floors.
Floor stripping refers to completely removing the old layers of floor wax, dirt, and any small debris found on the floor surface. It is one of the most labor-intensive and time-consuming jobs in the professional cleaning industry.
Floor Waxing Services
Floor stripping and floor waxing services are an important part of keeping your floors glossy, clean, professional, and presentable. High traffic areas such as hallways, entryways, commercial floor areas, office spaces, and zones open to the public are prone to wear and tear, dirt accumulation, nicks, scratches, and  slow wear down process that can take a beautiful floor and turn it
dull and lifeless.
After our commercial floor stripper removes the old wax layers and grimes, our floor waxing services will add sealants and recoat the areas with high-grade wax in multiple layers using a system designed to restore the protective coating, glossy exterior, and aesthetic attraction.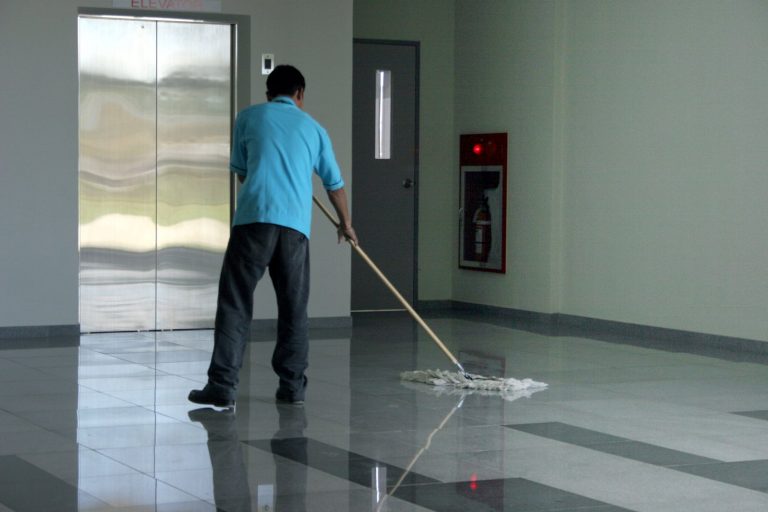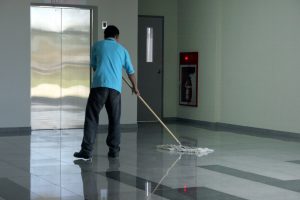 Common floors for routine commercial floor cleaning services: Vinyl and Ceramic Tile
Common Floor Cleaning Services:
Floor Stripping
Sealing and Waxing
Buffing and Floor Polishing

Grout Cleaning Services
Scrubbing and Surface Cleaning
Ceramic Tile Floor Care
See below if we service your area. Don't see your city listed? Give us a call to see if we can provide you service –(561) 732-1818. InterKleen proudly serves the majority of Palm Beach County: