Is the shine on your floors starting to fade away? Are you struggling to remove scuff marks, scratches, and stains from your floors no matter how much you clean them? It's time to seek the professional assistance of InterKleen's floor stripping services. Our team of skilled cleaning professionals specializes in floor stripping, and we can revive your dull and worn-out floors to their original shine and luster.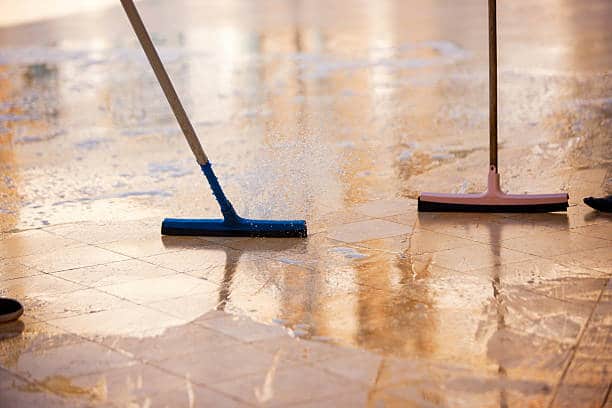 We value your investment in your floors and that's why we only use top-quality materials and equipment for our floor stripping services. Our highly trained technicians have years of experience in the industry and are committed to providing you with excellent results. With meticulous attention to detail, we make sure that every inch of your flooring is properly cleaned and restored.
Our team will collaborate with you to understand your specific requirements and create a customized plan that fits your budget and timeline. We have the expertise to strip and restore a wide range of flooring types, including hardwood floors, tile, and carpets. Our dedication to delivering exceptional quality and customer satisfaction is evident in everything we do. We take the time to listen to your needs and go the extra mile to exceed your expectations. Choose InterKleen for the most reliable floor stripping services in Coral Springs.
Don't leave your floors in the hands of an unprofessional company. Trust InterKleen's floor stripping services to revitalize your floors and bring back their former glory.
What Floor Stripping Can Do For Your Business
We understand the importance of maintaining a safe and clean environment for your business in Coral Springs. That's why we offer professional floor stripping services to remove layers of dirt, grime, and old wax buildup that can pose a risk to your employees and customers. By stripping the floor, we leave it looking clean, bright, and safe to walk on, improving the overall appearance and safety of your business.
Our floor stripping services in Coral Springs can also help to improve the aesthetics of your office floor. We use specialized techniques to remove scuffs, stains, and other imperfections, leaving the floor looking brand new. This can make a positive impression on your customers and clients, helping to build trust and loyalty in your brand.
Floors that are coated in layers of wax or other substances can become slippery and dangerous, especially in high-traffic areas like restaurants, retail stores, and hotels. At InterKleen, we use only the best products and equipment to strip the floor and leave a clean, slip-resistant surface that is safer for everyone who walks on it.
The InterKleen Difference
InterKleen takes pride in offering top-notch floor stripping services that set us apart from the competition. With over two decades of experience serving the Coral Springs area, we have established ourselves as a trusted name in the industry. Our commitment to delivering efficient and effective floor stripping services has earned us a reputation for excellence.
Our skilled technicians use only the best equipment and products to ensure that your floors are stripped of all unwanted coatings and residues. Whether you need us to remove wax buildup or prepare your floors for a fresh coat of finish, we've got you covered. Every floor is unique and we approach each project with care and attention to detail.
Our dedication to exceptional customer service sets us apart from the rest. From your first contact with us, you will be greeted by a friendly and knowledgeable staff member who will be happy to answer any questions you may have about our services. We take pride in our ability to listen to our client's needs and tailor our approach to meet your specific requirements. Our team will work closely with you to ensure that the floor stripping process is carried out in a way that minimizes disruption to your daily operations.
Where We Provide Coral Springs Floor Stripping
We specialize in providing top-notch floor-stripping services for commercial properties in Coral Springs. Our team of seasoned technicians is well-versed in working across a range of settings, from:
Corporate Buildings

Healthcare Facilities

Educational Institutions

Religious Establishments

Residential Complexes
We recognize that different flooring materials call for distinct cleaning methods, and we customize our approach to suit the individual requirements of each property. Whether you have tile, vinyl, hardwood, or any other type of flooring, you can count on us to deliver exceptional results. When it comes to commercial floor stripping in Coral Springs, InterKleen is your go-to service provider.
Get Floor Stripping Services That Your Business Needs
If you're looking for a professional and reliable floor stripping service in Coral Springs, look no further than InterKleen. Our experienced technicians are equipped with the latest tools and techniques to strip and refinish any type of flooring, from hardwood to tile and everything in between. We understand that your floors are a valuable investment, so we take the utmost care to ensure that they are stripped and refinished to perfection. Contact us today to schedule a consultation and let us help you restore the beauty of your floors.