Is your flooring lacking its former shine and luster? Do you see stubborn stains, scuff marks, or scratches that refuse to disappear despite your cleaning efforts? It might be time for you to consider professional floor stripping services. InterKleen has a team of skilled cleaning professionals who specialize in floor stripping services, providing your floors with a new lease of life.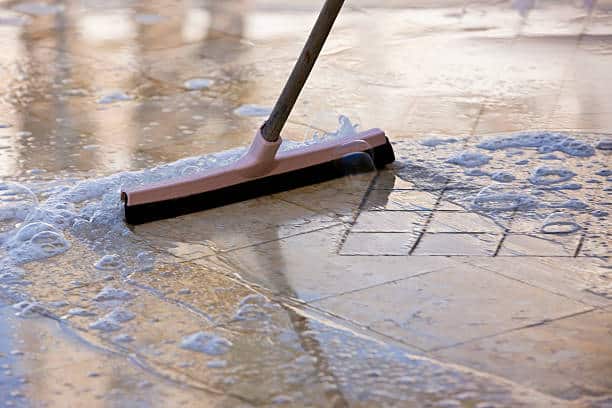 We understand that your floors represent a significant investment, so we utilize only top-quality materials and equipment for our floor stripping services. Our team consists of highly trained technicians with extensive experience in the industry. We take pride in our keen attention to detail and strive to ensure that every inch of your flooring is thoroughly cleaned and restored.
Our team collaborates with you to identify your needs and develop a plan that caters to your budget and schedule. Whether you have hardwood, tile, or carpet flooring, we possess the expertise to strip and rejuvenate them to their former glory. Our unwavering commitment to quality and customer satisfaction is evident in every aspect of our services. We listen carefully to our client's needs and work tirelessly to surpass their expectations. For the best floor stripping services in Deerfield Beach, trust only InterKleen.
What Floor Stripping Can Do For Your Business
InterKleen offers professional floor stripping services that can benefit local businesses in Deerfield Beach in numerous ways. Over time, floors can accumulate layers of dirt, grime, and old wax that can become unappealing and hazardous. With our floor stripping services, we can remove these layers of buildup, leaving your floors looking clean, bright, and safe to walk on.
Our floor stripping services can also greatly improve the appearance of your office floors. By removing scuffs, stains, and other imperfections, we can give your floors a brand-new look that positively impacts the overall appearance of your business. This can help make a great first impression on customers and clients, enhancing your business's reputation.
Floors that are coated in layers of wax or other substances can be slippery and pose a significant risk of slips and falls. At InterKleen, we prioritize safety, and that's why our floor stripping services can remove these layers, leaving a clean, slip-resistant surface that is safe for everyone who walks on it. This is especially crucial for businesses that receive a lot of foot traffic, such as restaurants, retail stores, and hotels.
Choose InterKleen for all your Deerfield Beach floor stripping needs, and experience the difference of professional services that prioritize safety, quality, and customer satisfaction.
The InterKleen Difference
InterKleen's floor stripping services are unparalleled in the Deerfield Beach area. With a history of serving our clients for over two decades, we have established ourselves as a trusted and reliable name in the industry. Our team of expert technicians is equipped with state-of-the-art equipment and uses only the highest quality products to strip your floors of any unwanted coatings or residues, leaving them looking as good as new.
We take pride in our commitment to providing exceptional customer service. Our friendly and knowledgeable staff members are always available to answer any questions you may have about our floor stripping services. We understand that every client's needs are unique, and we will work closely with you to customize our services to meet your specific requirements. Our goal is to ensure that the floor stripping process is carried out efficiently and effectively, with minimal disruption to your daily operations.
Choose InterKleen for all of your Deerfield Beach floor stripping needs, and experience the difference that our expertise and dedication can make. With our focus on quality, customer service, and attention to detail, we guarantee that you will be satisfied with the results. Contact us today to learn more about how we can help you achieve beautiful, clean floors that will impress your clients and guests.
Where We Provide Deerfield Beach Floor Stripping
We specialize in delivering top-notch floor-stripping services to commercial buildings throughout Deerfield Beach. Our team of proficient technicians boasts a wealth of experience working in various settings, such as:
Office complexes

Healthcare facilities

Educational institutions

Religious centers

Residential communities
We recognize that each type of floor necessitates a unique cleaning approach. As such, we tailor our techniques to suit the precise requirements of your particular building. No matter if your floor is composed of tile, vinyl, hardwood, or any other material, we possess the knowledge and skill set to handle the task with expertise. Make InterKleen your go-to provider for all of your commercial floor stripping requirements in Deerfield Beach.
Get Floor Stripping Services That Your Business Needs
If you're looking for a professional and reliable floor stripping service in Deerfield Beach, look no further than InterKleen. Our experienced technicians are equipped with the latest tools and techniques to strip and refinish any type of flooring, from hardwood to tile and everything in between. We understand that your floors are a valuable investment, so we take the utmost care to ensure that they are stripped and refinished to perfection. Contact us today to schedule a consultation and let us help you restore the beauty of your floors.