Floor Stripping Services in Jupiter
Are your floors losing their luster and appearing lackluster? Are you frustrated by stubborn blemishes, scuffs, and indelible marks that persist despite your best cleaning efforts? It's time to enlist the expertise of InterKleen, a premier janitorial company serving South Florida, including Jupiter, for top-tier floor stripping services. Our dedicated team of skilled professionals is adept at rejuvenating your floors and reviving their former brilliance.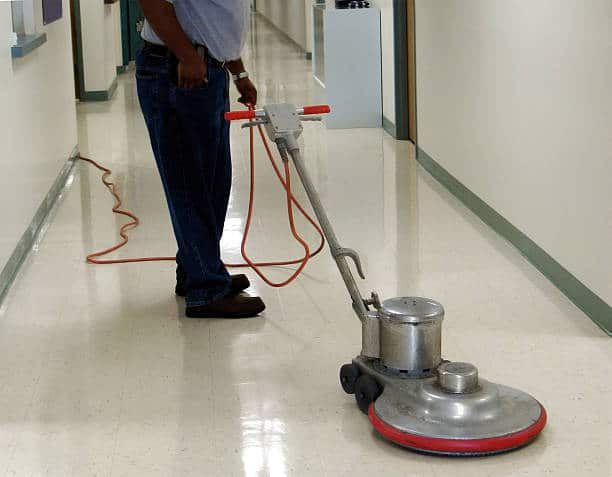 InterKleen holds a steadfast commitment to using only the finest materials and state-of-the-art equipment for our floor stripping services. Our adept team comprises extensively trained technicians with a wealth of experience in the field. Meticulousness is our hallmark, ensuring that every square inch of your flooring undergoes a meticulous cleansing process, resulting in a flawless restoration that catches the eye.
Collaborating closely with you, we ascertain your specific preferences and financial considerations. Whether you're the proud owner of hardwood floors, elegant tiles, or cozy carpeting, we possess the adeptness required to strip away the accumulated wear and tear and revive your surfaces' innate allure. Our dedication to excellence and unwavering commitment to customer contentment shines through in every facet of our operation.
What Floor Stripping Can Do For Your Business
At InterKleen, we recognize the vital role that floor stripping plays for local enterprises in Jupiter. As time goes by, floors tend to accumulate dirt, grime, and old wax, which not only diminishes their appearance but also poses potential hazards to employees and customers alike. Our specialized floor stripping solutions are meticulously designed to eradicate these layers of buildup, rejuvenating your flooring to a pristine, safe, and appealing condition.
Our floor stripping service goes beyond just enhancing safety; it also elevates the visual appeal of your business space. By eliminating scuffs, stains, and other unsightly imperfections, we effectively give your floor a makeover. This transformation can significantly enhance the overall ambiance of your establishment, creating an inviting and professional setting that leaves a lasting impression on your valued customers and patrons.
High-traffic establishments like restaurants, retail stores, and hotels understand the significance of maintaining a safe environment for their patrons. The accumulation of wax layers or other substances on floors can make them treacherously slippery, increasing the potential for accidents. Our comprehensive floor stripping process effectively eliminates these risks, resulting in a clean, slip-resistant surface that ensures the safety and well-being of everyone who walks across it.
The InterKleen Difference
We are a reputable janitorial company with a rich history of 20+ years in serving the South Florida region. Our dedicated team of experts boasts extensive experience and expertise in the latest floor stripping methodologies. Utilizing top-tier equipment and premium-grade products, we consistently achieve remarkable outcomes that stand out.
Our commitment to delivering unmatched customer satisfaction is at the core of our values. The InterKleen family is comprised of approachable and well-informed staff members who are available around the clock to address any inquiries you may have regarding our specialized floor-stripping services. We take immense pride in taking the time to truly understand your unique needs and customizing our solutions to align perfectly with what you require. We recognize that the process of floor stripping can potentially disrupt your day-to-day operations. This is precisely why we collaborate closely with you to execute the procedure seamlessly, minimizing any inconvenience.
Where We Provide Jupiter Floor Stripping
We specialize in top-notch floor stripping services, catering to an array of commercial establishments throughout Jupiter and its neighboring areas. At InterKleen, we take pride in our adept team of technicians who possess extensive expertise across various locations, including but not limited to:
Corporate Offices

Healthcare Facilities

Educational Institutions

Religious Centers

Residential Complexes 
Recognizing the distinct requirements of different flooring materials, we custom-tailor our cleaning strategies to perfectly align with the unique characteristics of each property. Whether your premises boasts exquisite tile, resilient-vinyl, elegant hardwood, or any other flooring variant, rest assured that our proficiency knows no bounds. For unrivaled commercial floor stripping solutions in Jupiter, trust none other than InterKleen.
Get Floor Stripping Services That Your Business Needs
If you're looking for a professional and reliable floor stripping service in Jupiter, look no further than InterKleen. Our experienced technicians are equipped with the latest tools and techniques to strip and refinish any type of flooring, from hardwood to tile and everything in between. We understand that your floors are a valuable investment, so we take the utmost care to ensure they are stripped and refinished to perfection. Contact us today to schedule a consultation and let us help you restore the beauty of your floors.