If you're operating a medical facility in Deerfield Beach, Florida, keeping your patients and staff healthy and safe should be your top priority. An unclean and poorly maintained medical facility can pose significant health risks and drive patients away. This is where InterKleen comes in. We're a professional cleaning company that specializes in medical facility cleaning in Deerfield Beach, Florida. Our main goal is to make sure that your facility is spotless and free of harmful bacteria and germs.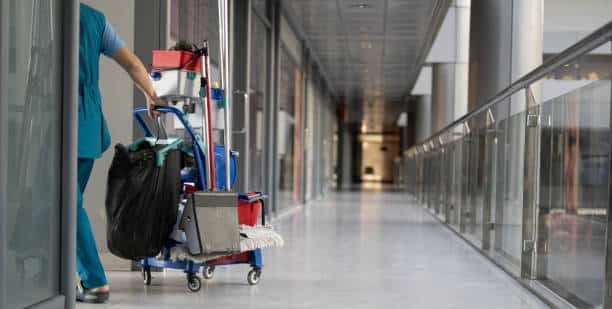 At InterKleen, our team of expert cleaners strictly adheres to the guidelines of various organizations, including OSHA, AAAHC, AORN, and the CDC, to make sure that our cleaning techniques are thorough and effective. We pay close attention to every detail of your medical facility and ensure that it's cleaned and sanitized to perfection, leaving no space for bacteria or germs to thrive. By selecting InterKleen for your medical facility cleaning needs in Deerfield Beach, you can be confident that your facility is as clean and safe as it can be.
Doctor Office Cleaning Services in Deerfield Beach
When it comes to medical facility cleaning in Deerfield Beach, there's no room for shortcuts. It's not uncommon for medical practices to forego professional cleaning services in an effort to save money, but this decision can lead to serious consequences. Office staff, including doctors and nurses, may be tasked with cleaning duties they are not trained for, resulting in a lack of hygiene and safety. OSHA, AAAHC, AORN, and CDC all recommend the use of professional cleaning services for medical facilities to maintain a sanitary and healthy environment. InterKleen is a specialized cleaning company offering top-notch cleaning services for medical offices in Deerfield Beach and the surrounding areas. By choosing InterKleen, you can trust that your medical office will be held to the highest standards of cleanliness and safety.
Medical Facility Janitorial Service in Deerfield Beach
Medical facilities are constantly evolving and encountering new challenges, which means it's essential to have a cleaning company that can adapt to these ever-changing conditions and provides comprehensive cleaning solutions. InterKleen has been a trusted name in medical facility cleaning for over two decades, possessing the expertise and know-how required to deliver impeccable cleaning services to a wide range of medical establishments in Deerfield Beach. These facilities include but are not limited to:
Assisted Living Communities

Medical Clinics

Dental Practices

Detoxification Centers

Laboratories

Pharmacies

Rehabilitation Centers

Veterinary Clinics

And More
InterKleen understands the importance of complying with the numerous regulations and protocols that are involved in providing a thorough cleaning experience at your medical facility. Our highly trained staff is well-versed in medical-grade facility cleaning to ensure that your facility is spotless, sanitary, and safe.
Deerfield Beach Medical Facility Cleaning
At InterKleen, we understand the importance of maintaining a clean and hygienic medical facility. That's why we offer exceptional cleaning services to medical facilities in Deerfield Beach. Our experienced team is dedicated to providing thorough and effective cleaning services for every high-touch surface in your facility, including patient rooms, operating rooms, common areas, bathrooms, cafeterias, waiting rooms, and treatment rooms. Our meticulous approach to cleaning ensures that your medical facility is always spotless and sanitized, giving you the peace of mind you need to focus on what really matters – providing exceptional care to your patients.
Deerfield Beach Cleaning Services for Physician Offices
Maintaining a clean and sterile environment is vital for medical facilities. However, finding a cleaning company that understands the unique needs of your practice can be challenging. Many cleaning services lack the expertise and resources to effectively disinfect and sanitize high-contact areas and other crucial parts of a medical office, which can leave behind harmful bacteria and germs. At InterKleen, we specialize in medical facility cleaning and possess the necessary knowledge and experience to provide superior cleaning services that meet the highest standards.
When you choose InterKleen for your medical facility cleaning needs, you can rest assured that your office will be immaculate and hygienic. We have a professional and reliable team of cleaners who understand the importance of providing a safe and healthy environment for your patients. Our services are available in Deerfield Beach and surrounding areas, making us the top choice for medical facility cleaning.
Medical Cleaning Services in Deerfield Beach
InterKleen is your solution for medical facility cleaning in Deerfield Beach. Each of our professional cleaning staff members is trained with OSHA, AAAHC, AORN, and CDC cleaning guidelines in mind. If you're looking for a cleaning service that will clean your medical office correctly, call us at  561-732-1818 or visit our contact page.