As a medical office owner or manager in Hialeah, Florida, it is vital that the well-being and safety of both your patients and staff are a top priority. A poorly maintained and unsanitary facility not only turns patients away but also poses a significant health hazard. This is where InterKleen comes in to help. We are a professional cleaning company that specializes in medical office cleaning in Hialeah, Florida. Our mission is to ensure that your facility is spotless and free of harmful bacteria and germs.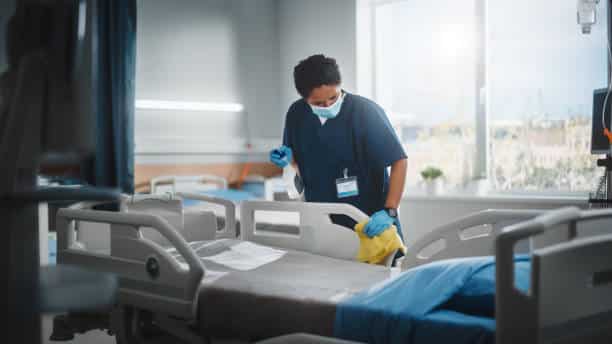 Our team of skilled cleaners strictly adheres to guidelines set by OSHA, AAAHC, AORN, and the CDC to guarantee that our cleaning methods are thorough and efficient. We take great care in ensuring that every inch of your medical office is cleaned and sanitized to perfection, leaving no room for bacteria or germs to prosper. By choosing InterKleen for your medical office cleaning needs in Hialeah, you can have peace of mind knowing that your facility is as clean and safe as it can be.
Doctor Office Cleaning Services in Hialeah
Your medical facility is responsible for providing a safe and healthy environment for your patients and staff. However, with the daily pressures and responsibilities of running a medical practice, it's easy to let cleaning standards slip. That's why InterKleen is here to help with professional medical facility cleaning in Hialeah. Our experienced and certified cleaners are trained to meet the strict guidelines set forth by OSHA, AAAHC, AORN, and CDC to ensure a safe and healthy environment. When you choose InterKleen, you can rest assured that your medical office will be held to the highest standards of cleanliness and hygiene. Don't let subpar cleaning services put your patients and staff at risk – choose InterKleen for top-notch medical facility cleaning.
Medical Facility Janitorial Service in Hialeah
At InterKleen, we understand the ever-evolving healthcare industry and the challenges that come with it. That's why we offer adaptable cleaning solutions that cater to the unique needs of medical facilities. With over 20 years of experience, we possess the expertise and knowledge required to deliver top-notch cleaning services to a range of medical establishments, including assisted living communities, medical clinics, dental practices, detoxification centers, laboratories, pharmacies, rehabilitation centers, veterinary clinics, and more.
Our team at InterKleen is fully aware of the importance of complying with regulations and protocols that come with providing a comprehensive cleaning experience at medical facilities. We prioritize staff training to ensure that they have a strong understanding of medical-grade facility cleaning to deliver high-quality services to our clients.
When it comes to medical facility cleaning in Hialeah, InterKleen is your go-to partner. Our commitment to excellence and attention to detail has earned us a reputation as one of the most reliable cleaning companies in the industry. We understand the unique needs of medical facilities and provide customized solutions that cater to your specific needs. Trust us to provide you with a spotless, germ-free, and safe environment for your patients and staff.
Hialeah Medical Facility Cleaning
At InterKleen, we know that a clean and hygienic medical facility is essential to the health and safety of your patients and staff. That's why we go above and beyond to ensure that every surface is spotless and sanitized. Our team is trained to follow all safety protocols and procedures to minimize the risk of infection and ensure that your facility is always in compliance with industry standards. We take our responsibility to your facility seriously, and we are committed to providing the highest quality cleaning services to medical facilities in Hialeah.
Hialeah Cleaning Services for Physician Offices
Maintaining a clean and safe environment is crucial for any medical facility, and as a healthcare provider, you know that better than anyone. However, finding a reliable cleaning service that can cater to the unique needs of your office can be quite challenging. Fortunately, InterKleen offers expert medical facility cleaning services that prioritize sanitation and disinfection. Our team has the necessary knowledge and resources to effectively eliminate harmful germs and bacteria that can pose a risk to your patients.
InterKleen is committed to delivering exceptional cleaning services that leave your office spotless and hygienic. Our team is dedicated to ensuring your medical facility is free from all forms of dirt and contamination. We understand the importance of maintaining high-contact areas, and we ensure that every part of your office is disinfected thoroughly.
With InterKleen, you can be confident that your medical facility will be expertly cleaned and sanitized, ensuring a healthy environment for your patients. Our professional cleaning services are conveniently located in Hialeah, making us the go-to choice for medical facilities located here.
Medical Cleaning Services in Hialeah
InterKleen is your solution for medical facility cleaning in Hialeah. Each of our professional cleaning staff members is trained with OSHA, AAAHC, AORN, and CDC cleaning guidelines in mind. If you're looking for a cleaning service that will clean your medical office correctly, call us at  561-732-1818 or visit our contact page.