Medical Facility Cleaning in Palm Beach
As a medical office owner or manager in Palm Beach, Florida, maintaining a clean and sanitary facility is of the utmost importance. Not only does it provide a more pleasant experience for patients, but it also promotes the well-being of both patients and staff by reducing the risk of harmful bacteria and germs. That's where InterKleen comes in to help. We are a professional cleaning company that specializes in medical office cleaning in Palm Beach, with a dedicated team of experienced cleaners who follow strict guidelines from organizations such as OSHA, AAAHC, AORN, and the CDC.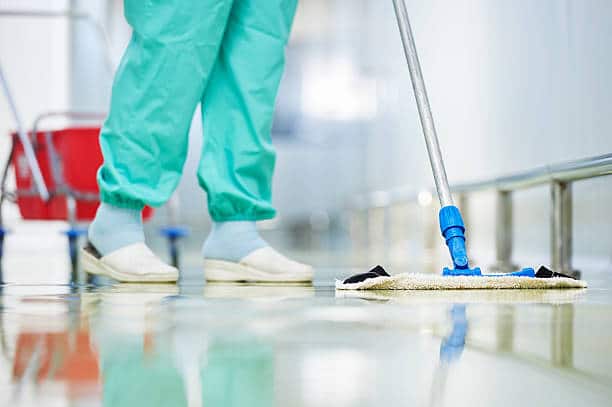 Our cleaning practices are thorough and effective, ensuring that every nook and cranny of your medical office is properly cleaned and sanitized. We understand the importance of maintaining a sterile environment in a medical setting, and we take great care to leave no room for bacteria or germs to thrive. When you choose InterKleen for your medical office cleaning needs in Palm Beach, you can have peace of mind knowing that your facility is as clean and safe as possible.
Doctor Office Cleaning Services in Palm Beach
Many healthcare practices in Palm Beach have recently chosen to eliminate professional cleaning services in an attempt to reduce expenses. However, this decision often means that the cleaning tasks are passed on to the physicians, nurses, and other staff members of the office. While cost-saving measures are understandable, it is essential to understand that these professionals are not trained in cleaning and should not be expected to take on these duties. The Occupational Safety and Health Administration (OSHA), Accreditation Association for Ambulatory Health Care (AAAHC), Association of periOperative Registered Nurses (AORN), and Centers for Disease Control and Prevention (CDC) all advocate for the use of professional cleaning services to ensure a safe and sanitary medical facility. InterKleen, a specialized cleaning service, offers premium medical office cleaning services to all healthcare practices in Palm Beach and surrounding areas. By selecting InterKleen, you can be assured that your medical office is cleaned to the highest standards of cleanliness and hygiene.
Medical Facility Janitorial Service in Palm Beach
As the healthcare industry progresses and encounters new obstacles on a daily basis, it is crucial to have a cleaning company that can adapt to these ever-changing circumstances and offers comprehensive cleaning solutions. InterKleen has been providing cleaning services for medical facilities for over two decades, and therefore, possesses the knowledge and expertise required to effectively sanitize a wide range of healthcare settings. These settings include:
Assisted Living Communities

Medical Clinics

Dental Practices

Detoxification Centers

Laboratories

Pharmacies

Rehabilitation Centers

Veterinary Clinics
InterKleen recognizes the significance of adhering to the various regulations and protocols involved in providing a thorough cleaning experience for your medical facility. We place a strong emphasis on training our staff to have a thorough understanding of the specialized cleaning requirements of healthcare settings.
Palm Beach Medical Facility Cleaning
We pride ourselves on providing exceptional cleaning services for medical facilities in Palm Beach. Whether you have a sprawling network of buildings or a single, small office, our team is committed to ensuring that every high-touch surface is meticulously cleaned and sanitized. This includes patient rooms, operating rooms, common areas, bathrooms, cafeterias, waiting rooms, and treatment rooms. We understand the importance of maintaining a clean and safe environment for patients, staff, and visitors, and strive to exceed expectations with our services.
Palm Beach Cleaning Services for Physician Offices
As a healthcare professional, you understand the importance of maintaining a clean and sanitized environment for your patients. However, finding a cleaning service that truly understands the unique needs of a medical office can be a daunting task. Many companies lack the specialized knowledge and resources required to effectively clean and disinfect a physician's office, leaving behind harmful bacteria and germs that can put patient care at risk. That's where InterKleen comes in. Our team of experts specializes in medical facility cleaning and is equipped with the necessary knowledge and experience to properly disinfect high-contact areas and other crucial areas of your office.
When you choose InterKleen, you can rest assured that your office will be thoroughly cleaned and sanitized by the end of each workday, creating a safe and healthy environment for your patients. Based in Palm Beach, we are the go-to provider for reliable and professional medical facility cleaning services. With our expert team, you can focus on providing top-notch care to your patients, knowing that your office is in good hands.
Medical Cleaning Services in Palm Beach
InterKleen is your solution for medical facility cleaning in Palm Beach. Each of our professional cleaning staff members is trained with OSHA, AAAHC, AORN, and CDC cleaning guidelines in mind. If you're looking for a cleaning service that will clean your medical office correctly, call us at  561-732-1818 or visit our contact page.