Medical Facility Cleaning in Pompano Beach
As a medical office owner or manager in Pompano Beach, Florida, you know firsthand the importance of maintaining a clean and sanitized environment. Not only is this essential for the health and well-being of your patients and staff, but it is also essential for the reputation of your medical office. After all, who wants to visit a doctor's office that is not perfectly clean and free of germs? At InterKleen, we understand the high standards that medical offices must meet when it comes to cleanliness and sanitation. That is why we offer top-quality medical office cleaning services in Pompano Beach, Florida that are designed to meet the unique needs of your facility.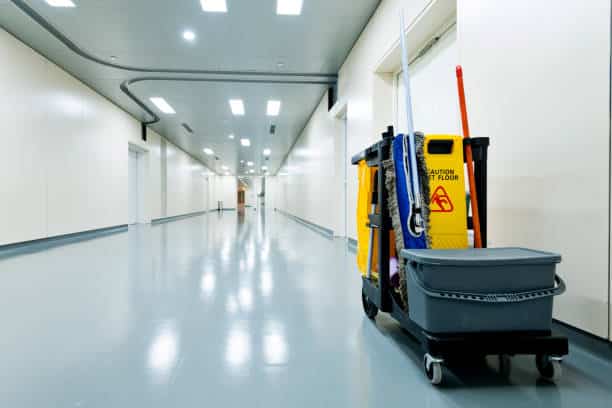 Our team of cleaning professionals is fully trained and experienced in following OSHA, AAAHC, AORN, and CDC guidelines to ensure thorough and effective cleaning. We use only the highest quality cleaning products and equipment to ensure that every surface, nook, and cranny of your medical office is thoroughly sanitized and free of bacteria and germs. We understand that the health and safety of your patients and staff are your top priorities, and we take that responsibility seriously. That is why we strive to exceed your expectations with every cleaning service we provide.
In addition to our commitment to following industry guidelines and using top-quality cleaning products and equipment, we also offer flexible scheduling options to meet the needs of your busy medical office. We understand that you have a lot on your plate, and we want to make it as easy as possible for you to keep your medical office clean and sanitized. Whether you need daily, weekly, or monthly cleaning services, we have a solution that will fit your needs and budget.
If you are looking for a reliable and trustworthy partner to help you keep your medical office clean and safe in Pompano Beach, Florida, look no further than InterKleen. Contact us today to learn more about our medical office cleaning services and to schedule your first cleaning.
Doctor Office Cleaning Services in Pompano Beach
Many doctors' offices in Pompano Beach have stopped using professional cleaning services for their medical facilities. While this may seem like a cost-effective solution, it puts the burden of cleaning on the doctors, nurses, and other staff members who are not trained in cleaning. This is not only unfair, but it also puts the facility at risk of not meeting the necessary guidelines set by organizations such as OSHA, AAAHC, AORN, and CDC. At InterKleen, we offer top-notch medical office cleaning services for all medical facilities in Pompano Beach and the surrounding area. Our team is properly trained and equipped to ensure that your facility is maintained to the highest standards of cleanliness and safety.
Medical Facility Janitorial Service in Pompano Beach
As the medical industry evolves and faces new challenges on a daily basis, it is crucial to have a cleaning company that can adapt to the latest guidelines and provides thorough cleaning services. InterKleen has been serving the medical community for over 20 years, making us experts in cleaning a wide range of medical facilities. We can help clean and sanitize the following medical facilities:
Assisted Living Facilities

Clinics

Dentist Offices

Detox Centers

Labs

Pharmacies

Rehab Facilities

Veterinary Offices
InterKleen fully understands the importance of following the different regulations and procedures that go into providing a meaningful cleaning experience at your medical facility. We place a great emphasis on training our staff to fully understand medical-grade facility cleaning. 
Pompano Beach Facility Cleaning
Whether your facility is a network of buildings or a single office, InterKleen's comprehensive medical facility cleaning in Pompano Beach guarantees a thorough cleaning and sanitizing of high-contact surfaces in areas like: 
Patient Rooms

Operating Rooms

Common Areas

Bathrooms

Cafeterias

Waiting Rooms

Treatments Rooms
Pompano Beach Cleaning Services for Physician Offices
As a physician, it can be challenging to find a cleaning company that specifically caters to medical office cleaning. Many cleaning businesses do not have the resources to train their staff on the specific guidelines required for cleaning medical facilities, which can result in bacteria and germs being left behind. At the end of each workday, a physician's office is filled with various germs and bacteria. It is crucial that the office is thoroughly cleaned and sanitized for the next day. Choosing a cleaning service that is not familiar with the proper procedures could result in high-contact areas and other vital areas being overlooked. For a cleaner and more sanitized medical office, consider InterKleen, a professional and experienced provider of medical facility cleaning in Pompano Beach.
Medical Cleaning Services in Pompano Beach
InterKleen is your solution for medical facility cleaning in Pompano Beach. Each of our professional cleaning staff members is trained with OSHA, AAAHC, AORN, and CDC cleaning guidelines in mind. If you're looking for a cleaning service that will clean your medical office correctly, call us at  561-732-1818 or visit our contact page.