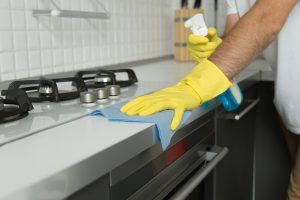 Hiring a restaurant cleaning service can be helpful for foodservice businesses who may be short on time or are looking to ease the workload of their employees. No one wants to eat in a dirty restaurant so regular cleaning is paramount to running a successful restaurant.  A clean restaurant creates an inviting atmosphere, provides your staff with a safe working environment, and can help reduce the risk of cross-contamination and foodborne illnesses.
InterKleen is a Palm Beach restaurant cleaning service that caters to the restaurant industry. We are well equipped to handle restaurants of all sizes. Our skilled professionals will thoroughly sanitize and degrease high-volume kitchens as well as indoor and outdoor dining areas leaving them looking and smelling clean.
Boca Raton Restaurant Cleaning Service
If you operate a restaurant in Boca Raton and the surrounding cities in Palm Beach County you should consider using InterKleen for all your janitorial and cleaning services. When deciding whether to outsource the cleaning of your restaurant keep in mind that our cleaning services will:
Help Prevent the spread of infectious disease: Maintaining a regular cleaning and sanitizing schedule can help keep infectious diseases like coronavirus, norovirus, and influenza from spreading to your staff and customers
Help you pass Health inspections: If food prep and service areas are kept unclean they can quickly lead to hazardous bacteria growth, which can lead to the health inspector ordering cleaning and sometimes mandatory closing down of operations. Keeping your restaurant cleaned and sanitized can prevent the shutting down of operations which will cost you money and time.
Help prevent Cross-contamination: Proper cleaning and degreasing of surfaces such as prep tables, sinks, and hood vents can prevent cross-contamination that can potentially be deadly if someone ingests food that has come into contact with a contaminated area.
Help with first impressions: If your dining area appears to be dirty or unkept then chances are customers are going to be turned off and end up leaving. Even worst they may leave bad reviews on sites such as Yelp or Trip Advisor. Hiring a Palm Beach cleaning company is a great way to keep your customers happy and posting raving reviews.
Palm Beach Restaurant Cleaning Service
Whether you need cleaning for a commercial kitchen, restaurant, or even food truck, the certified cleaning professionals at InterKleen are here to help you. Don't let grime and dirt build-up to the point where you have to shut down operations to clean up. Hire us and we will take the hassle of cleaning away.
Our cleaning team is flexible and will work during hours that are convenient for your Palm Beach restaurant. We specialize in deep cleaning of surfaces, odor removal, carpet, and hard surfaces, and other challenges that go beyond the scope of your regular cleaning.  Our professional cleaning service gives your restaurant a way forward to provide your employees and customers ongoing safety as you operate during the COVID-19 pandemic.
Hire a Professional Restaurant Cleaning Company
Maintaining the cleanliness of your establishment isn't something you want to leave in untrained hands. The average restaurant employee hasn't been instructed in sanitation practices that are required to maintain a healthy kitchen and dining room, and you also need to consider the time it takes to properly clean your restaurant. It is easier and faster to simply hire a team of professionals to complete the sanitization process after you're closed for the night.
To find out more about our superior Restaurant Cleaning services in Palm Beach Beach and the surrounding area, give us a call at 561-732-1818, or contact us to schedule an appointment today